Thanks to Holy Cross Alumni Sponsors, May 5th Marked an Exciting Day for Families in Acul du Nord, Haiti!

Thanks to the Holy Cross alumni listed to the left, C2C will provide high-quality health care to thousands of families in the coming years!
With alumni support, C2C prepared for this opening for months, rehabbing the containers that made up our clinic in Port-au-Prince, moving them North, and prepping the new site. Local laborers helped construct restrooms and storage near the containers. C2C staff from our Camp Coq Clinic worked one-on-one with the new staff members to train them and share their advice and experience. And our two new Community Health Workers (CHWs) have been going house to house getting input from family members on the specific needs of the community and sharing health and clinic information. All of this planning came together for a successful opening.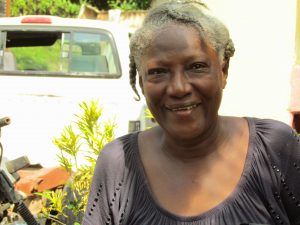 Rosie, who lives just down the street from the clinic site, said, "We appreciate this clinic a lot. In the past there were passing visitors and organizations, but nothing to bring any development to the community. C2C seems to be here to stay. This is the beginning of good work." Rosie and her family have been kept informed of the clinic's opening and updates through C2C's CHWs.
Since opening day, the clinic has seen an average of 11 patients per day, and those numbers are trending upward. The high patient satisfaction rates measured through exit surveys, and valuable support directly from the community all point to an incredible – and lengthy – partnership between C2C and Acul du Nord.
Meet Christi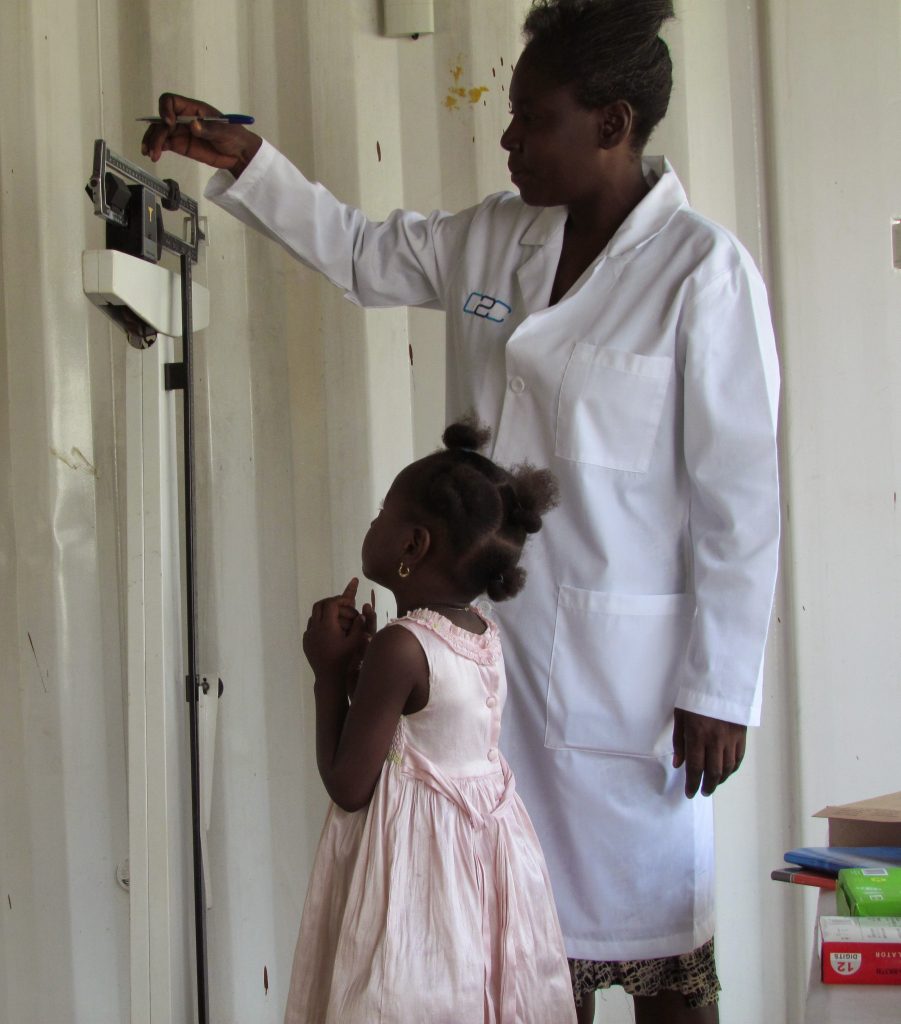 Two-year-old Christi and her family were the second, third, and fourth patients to visit the clinic on opening day. Christi's mother, who also came for a check-up for herself, said, "The doctor was very good, and everything went well. This clinic is very good for the community." Christi's 3-year-old cousin, Kensi, followed. Kensi's mother was able to have Kensi examined by the doctor and pick up her prescription, all on-site.
Acul du Nord Clinic Nears 900 Patient Visits
Thanks to you and many alumni of the College of the Holy Cross, C2C's Acul du Nord clinic has hosted almost 900 patient visits since opening in May. Our trained local clinicians have prescribed more than 2,000 high-quality pharmaceuticals and more than 1,000 laboratory tests to ensure accurate diagnoses. Community Health Workers have visited more than 2,000 families in their homes, offering information to improve community health.
In August, C2C initiated a free maternal health care program to help combat Haiti's extraordinarily high maternal and infant mortality rates. We believe that every mother should be able to offer her baby the healthiest possible start in life. Twice a week, Dr. Chanlatte, an OB/GYN, visits the clinic to offer prenatal and women's health services. C2C provides all prenatal clinical care (including safe birth planning), lab tests, pharmaceuticals, and an ultrasound to every pregnant woman in the community free of charge. We also continue to offer childhood immunizations for no charge, protecting Haiti's most vulnerable population from preventable illness. Since kicking off the maternal care program, C2C has provided more than 150 patient visits at our Acul du Nord clinic, 74 in October alone.
Thank you for helping C2C ensure families in Acul du Nord have access to vital primary care as well as free specialty services for mothers and their children. In partnership with you, we are improving health outcomes for the entire community!