On an unseasonably warm Saturday morning on the Boston Common, I joined 195,000+ other concerned Americans to show support and solidarity for the principles of the Women's March. Digging deep into our revolutionary roots (some called it the Boston She Party), we sang, carried signs and basked in the sea of sisterhood. We did not march as sore losers in the political election but stood together to protect fundamental human rights and that includes the rights of all women.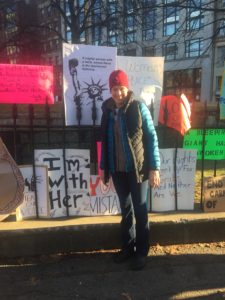 Ten days earlier, I joined a film crew in Haiti to document the story of C2C's head nurse, Herlande Duvot. As one of the first C2C employees in northern Haiti, Herlande's success story has been an integral part of C2C's success story. She is a clinician and a thought leader, helping us build a sustainable model for community health. A cornerstone of C2C's mission is access to reproductive health care and Herlande manages C2C's family planning and women's health programs – the very services that are under threat in the U.S. Although the Haitian Ministry of Health tries to provide free family planning products to its population, it often falls short due to transportation, supply, and logistical issues. This is where C2C steps in: we prioritize family planning for women and ensure that health care services, education, and products are available to both women and men.
On January 21st, I locked arms with women I had never met on one side and members of my faith community on the other. I felt supported in doing the hard work of protecting fundamental rights in a changing world. I have always known that women in Haiti want the same opportunities we want for our children here in the U.S., but when they struggle to access family planning services, choices can be hard. So as I marched to protect the rights of my daughter, myself, and millions of other Americans, I also marched for women in Haiti knowing that polices made in the U.S. will trickle down to affect them too and we will continue to march until all women can keep their bodies safe and protected.