On March 11, the World Health Organization officially declared the novel coronavirus (known as COVID-19) a pandemic, calling on countries, governments, and global health organizations to take urgent and aggressive action.

Diseases like COVID-19 hit impoverished countries with weaker health systems the hardest. C2C is closely monitoring the spread of the virus and its implications on our work to save lives in Haiti's most vulnerable communities.


In Response to COVID-19 in Haiti, C2C is working to:
Protect patients, communities, and staff against COVID-19 through screening, triage, and isolation at our clinics, as well as referrals to testing centers.
Provide dignified, high-quality treatment for people with COVID-19, and all patients at our clinics.
Support government response and the Ministry of Health and work with them to mitigate COVID-19 cases.
Mobilize COVID-19 mitigation best-practices and prevention education in the communities we serve via C2C's network of skilled community health workers.
Ensure adequate supplies for our staff and clinics
Keeping stakeholders informed about our evolving response to COVID-19 in Haiti and our communities specifically.
Goals:
Mitigate the spread of the coronavirus infection in our region of Northern Haiti
Treat any patient suspected of having coronavirus
Educate the communities we serve in virus mitigation best practices
Short-term Objectives:
Prepare and train staff to provide education to our communities on coronavirus
Secure equipment needed to face an epidemic
Enhance the capacity of the clinics to quickly identify any suspected case of coronavirus
Enhance the capacity of the clinics to care for any possible case of coronavirus infection
Sample of Clinical and Community Activities:
Training of staff on COVID-19 and means of prevention: prepare and disseminate training materials about COVID-19 to give to staff; supervising doctor ensures that all clinical staff are trained properly
Provide, improve, and resupply hand washing stations at each clinic and encourage increased handwashing among patients and staff
Radio and TV announcements weekly from C2C medical staff; hire a local "mobile" (a pick-up truck with large speakers in the bed) to drive through communities and broadcast the Haiti Ministry of Health's taped message on COVID-19 prevention
Clinicians provide up-to-date information on COVID-19 during regular patient consultations; nurses hold education sessions in waiting room of clinics to inform patients how to protect themselves and their families
Increase collaboration with peer organizations and the Ministry of Health to scale communications, education materials, outreach, and training
Focusing on the Front Lines of COVID-19
We are raising a COVID-19 Response Fund to equip our staff and facilities with essential equipment and supplies that will help to slow the spread of the virus in Haiti and save lives.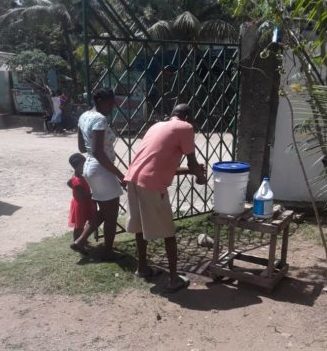 C2C's latest coronavirus updates:
COVID-19 in our clinics:
June 11, 2020
Until recently Haiti seemed to be fortunate regarding COVID-19, with reported numbers barely registering on the global radar screen. We are now however beginning to see the kind of spike in cases we have long feared.

We have now seen COVID directly impact our staff. A cluster in one of our clinics yielded 6 positive tests but thankfully none had severe illness (3 were asymptomatic and 3 experienced only mild symptoms). We are glad to report they are now back to work serving our patient communities.

Leveraging Primary Care to Treat COVID-19 in Haiti
March 31, 2020
As of March 31st, the Haitian government had confirmed 15 cases of COVID-19. While that number seems small, our great fear, just as we have seen elsewhere across the globe, is that we are only at the bottom of the curve and the numbers could spike very quickly in the coming weeks.

The COVID-19 outbreak is now everywhere. In Italy, the virus overloaded hospitals in just three weeks which led to devastating stories of bed and ventilator rationing for patients. New York also seems to be entering a similar phase at the current moment.

We are all wondering whether our governments could have done more and why our health care systems are so ill-prepared for a pandemic of this nature.

---
To stay up to date with our work, please subscribe to our newsletter, and follow us on Twitter, Facebook, and Instagram.