On March 11, the World Health Organization officially declared the novel coronavirus (known as COVID-19) a pandemic, calling on countries, governments, and global health organizations to take urgent and aggressive action.

Diseases like COVID-19 hit impoverished countries with weaker health systems the hardest. C2C is closely monitoring the spread of the virus and its implications on our work to save lives in Haiti's most vulnerable communities.


In Response to COVID-19 in Haiti, C2C is working to:
Protect patients, communities, and staff against COVID-19 through screening, triage, and isolation at our clinics, as well as referrals to testing centers.
Provide dignified, high-quality treatment for people with COVID-19, and all patients at our clinics.
Support government response and the Ministry of Health and work with them to mitigate COVID-19 cases.
Mobilize COVID-19 mitigation best-practices and prevention education in the communities we serve via C2C's network of skilled community health workers.
Ensure adequate supplies for our staff and clinics
Keeping stakeholders informed about our evolving response to COVID-19 in Haiti and our communities specifically.
Goals:
Mitigate the spread of the coronavirus infection in our region of Northern Haiti
Treat any patient suspected of having coronavirus
Educate the communities we serve in virus mitigation best practices
Short-term Objectives:
Prepare and train staff to provide education to our communities on coronavirus
Secure equipment needed to face an epidemic
Enhance the capacity of the clinics to quickly identify any suspected case of coronavirus
Enhance the capacity of the clinics to care for any possible case of coronavirus infection
Sample of Clinical and Community Activities:
Training of staff on COVID-19 and means of prevention: prepare and disseminate training materials about COVID-19 to give to staff; supervising doctor ensures that all clinical staff are trained properly
Provide, improve, and resupply hand washing stations at each clinic and encourage increased handwashing among patients and staff
Radio and TV announcements weekly from C2C medical staff; hire a local "mobile" (a pick-up truck with large speakers in the bed) to drive through communities and broadcast the Haiti Ministry of Health's taped message on COVID-19 prevention
Clinicians provide up-to-date information on COVID-19 during regular patient consultations; nurses hold education sessions in waiting room of clinics to inform patients how to protect themselves and their families
Increase collaboration with peer organizations and the Ministry of Health to scale communications, education materials, outreach, and training
Focusing on the Front Lines of COVID-19
We are raising a COVID-19 Response Fund to equip our staff and facilities with essential equipment and supplies that will help to slow the spread of the virus in Haiti and save lives.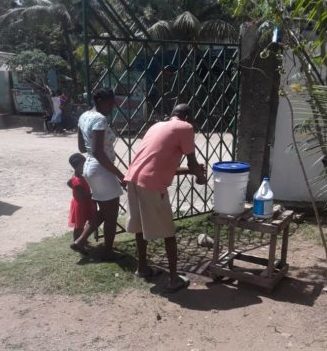 C2C's latest coronavirus updates:
Second Wave of COVID-19 Arrives in Haiti
May 24, 2021
While the first wave of the COVID-19 pandemic progressed much more slowly in Haiti than the rest of the world, it appears that a recent second wave has caused an increase in panic as cases surge, causing the government to declare a state of emergency. Haiti has had 13,735 confirmed cases and 280 deaths in total, with 111 new cases reported just yesterday.

Until now, it seemed that Haiti had been spared, as it had one of the lowest COVID-19 death rates in the world. There are different possible explanations for this, one of them being that Haiti's population is fairly young with a median age of 23 years old, according to the UN World Population Ageing 2015 Report. But because COVID-19 was not the health crisis for Haiti that we expected, most Haitians do not feel that they need to get a COVID-19 vaccine. More than that, the country is currently facing major political and civil unrest that have led to high rates of unemployment, inflation, as well as increased food insecurity.

Reflecting on one year of COVID-19: A letter from C2C's Managing Director in Haiti
March 19, 2021
Two years ago, life in Haiti seemed normal yet still consisted of many struggles, from poverty and lack of education & healthcare, to political uprisings and a continuously crashing economy. Fast forward to 2020, and still the same struggles endured amid a global pandemic. The unknown loomed in a country with clustered public transportation, where pickup trucks are often filled with 20+ people packed together. How do people practice social distancing in such an environment? Well, they simply cannot. Out of necessity, life had to continue without the possibility of precautions for the masses. A lucky few could afford social distancing—which remains a luxury.

An Update on COVID-19 in Haiti
December 2, 2020
As the second wave of COVID-19 cases surges in the U.S. and other countries brace themselves for an increase in cases this winter, we are seeing and hearing better news in Haiti. Haiti's latest totals reveal less than 10,000 cases and 300 deaths in all.

Due to its very poor health infrastructure, we were expecting much higher numbers since our neighboring country, the Dominican Republic (DR), was reporting a high case count and now has 139,000 cases and 2,300 deaths.

Strong Primary Health Care: The Foundation to COVID-19 Recovery and Building Healthy Communities
October 28, 2020
Two years ago, world leaders met at the Global Conference on Primary Health Care in Astana, Kazakhstan, and marked their commitment to strengthen primary health care (PHC) as the cornerstone of resilient health systems and the most effective pathway toward health for all.

Today, the COVID-19 pandemic has made acting on those commitments more urgent than ever. According to an article in the British Medical Journal, this pandemic is officially "the most disruptive event for health systems across the world in a century. It has forced health systems to tackle a new infectious disease, protect health workers and patients, and figure out how to still deliver essential health services." It has had a dramatic effect on people's lives globally and has preyed on the most vulnerable among us.

Malnutrition and COVID-19: Food insecurity is on the rise in Haiti
September 3, 2020
Global hunger has increased over the past five years, and because of the novel coronavirus pandemic, an additional 83 to 132 million people around the world are expected to plunge deeper into food insecurity by the end of the year.

Food insecurity has grown worse in Haiti in the past year due to many factors, some of which include the closure of the border with the Dominican Republic, persistent inflation, the continued depreciation of the local currency, a rise in unemployment, and the effects of COVID-19.

Here at C2C, we currently operate a malnutrition program at our Acul du Nord clinic site. The program started four years ago to treat moderate and severe malnutrition in children between 6 months of age to 5 years old. Since its launch, we have treated over 350 children. However, with the magnitude of difficulties that are on the rise in Haiti, there is a higher prevalence of malnutrition in rural areas.

Latest COVID-19 Update from Haiti from our Chief Operating Officer, Dr. Samuel Bernard
August 3, 2020
On March 20th, 2020, Haiti recorded its first confirmed case of coronavirus. As of July 29, Haiti has recorded 7,371 official cases and 158 deaths, although because the country has not been doing sufficient testing, the actual figures are likely much higher. Unfortunately, Haiti's Ministry of Health lacks the resources to adequately respond to the virus. A 2017 report from the World Bank found that the government spends just $13 per capita annually on health services, much lower than neighboring countries such as the Dominican Republic ($180 dollars) and Cuba ($781 dollars) and the Latin American and Caribbean region as a whole, which has a per capita public expenditure of $336 dollars. Of the few funds allocated to the health system, 54% of the government's expenditure is allocated to curative care (38% to hospitals) with only 19% directed towards preventive care.

COVID-19 in our clinics:
June 11, 2020
Until recently Haiti seemed to be fortunate regarding COVID-19, with reported numbers barely registering on the global radar screen. We are now however beginning to see the kind of spike in cases we have long feared.

We have now seen COVID directly impact our staff. A cluster in one of our clinics yielded 6 positive tests but thankfully none had severe illness (3 were asymptomatic and 3 experienced only mild symptoms). We are glad to report they are now back to work serving our patient communities.

Leveraging Primary Care to Treat COVID-19 in Haiti
March 31, 2020
As of March 31st, the Haitian government had confirmed 15 cases of COVID-19. While that number seems small, our great fear, just as we have seen elsewhere across the globe, is that we are only at the bottom of the curve and the numbers could spike very quickly in the coming weeks.

The COVID-19 outbreak is now everywhere. In Italy, the virus overloaded hospitals in just three weeks which led to devastating stories of bed and ventilator rationing for patients. New York also seems to be entering a similar phase at the current moment.

We are all wondering whether our governments could have done more and why our health care systems are so ill-prepared for a pandemic of this nature.

---
To stay up to date with our work, please subscribe to our newsletter, and follow us on Twitter, Facebook, and Instagram.